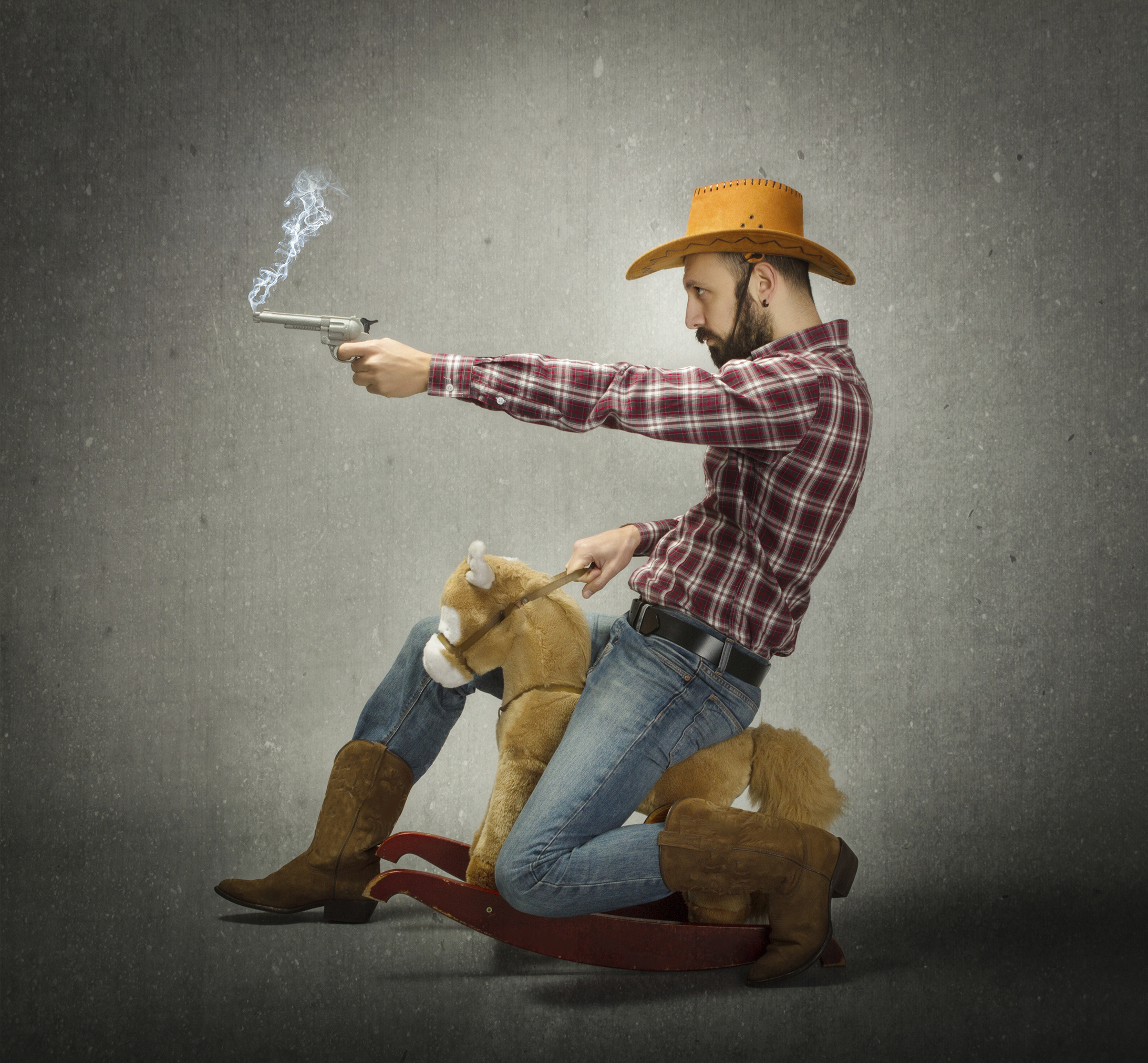 by admin
Posted on August 11, 2015 at 13:03 PM
For many businesses, pay-per-click advertising is a staple among the many facets of their comprehensive marketing strategy. For others, however, it is an elusive creature that always slips through the grasp of their understanding, leaving them scratching their heads and wondering exactly what it does and why they need to be doing it. Let's have a little refresher on the different types of PPC and which ones are most effective for specific goals, shall we?
Shop on Google
In today's world, convenience is key. Consumers are now shopping in ways that our forefathers could only dream of, simply by clicking and tapping a few buttons on their tablets or smart devices. The "Shop on Google" feature is one such example of PPC where websites can simplify the process of getting their products found without the consumer ever having to go on their site. Users can search for 'traditional furniture', for example, and find several options in the right side bar of search results. By setting up products on a Google shopping PPC campaign, you can also see which products are selling well and which ones aren't, giving your business a ridiculously affordable testing platform for new products.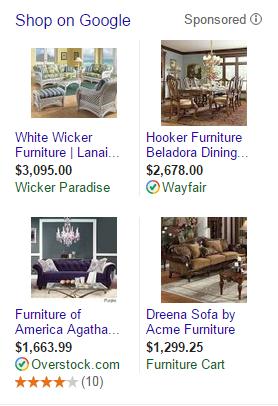 Google Ads Search
Google search pay-per-click ads are ads that show at the top of search results, usually the top three results or a column of results to the right side of the screen. These ad placements can be quite competitive, so bids for these tend to run higher than other forms of PPC. However, these are considered 'active' ads, since users are specifically looking for products or services related to your business. Hence, if the ads are well-done, this PPC format is almost always successful. They are also the most popular form of PPC.
Google Ads Display
Google display pay-per-click ads display as a banner ad, box ad or mobile ad on millions of sites, reaching an astounding 90 percent of Internet users. These ads can be refined by demographic, geographic location, and a ton of other specifications such as topic, keywords, interests, etc. The ads can show on sites you choose, sites that are relevant for your industry, or sites that are geographically relevant. You'll typically pay more per conversion for this type of PPC, but the cost per click is significantly lower than a search pay-per-click ad. This is considered a more passive type of PPC, as users can be browsing sites and come across your potentially unrelated ad. The subsequent 'squirrel moment' may have them browsing your site instead…and it happens millions of times every single day, making this one of the best PPC platforms out there. These ads come in all shapes and sizes, animated and static, so getting creative with reaching your audience is a must for this type of PPC.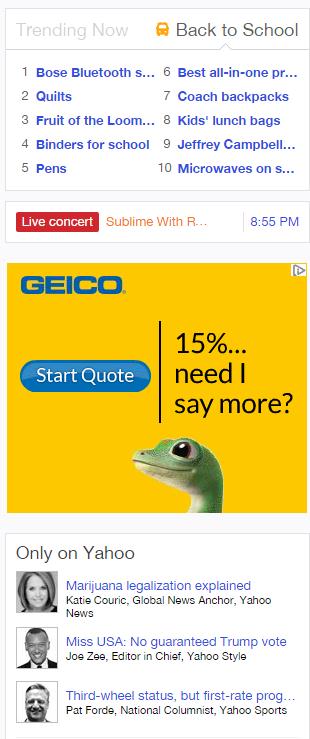 Bing/Yahoo Ads
Bing and Yahoo ads aren't talked about as much as Google ads, but they do offer some advantages for certain businesses. For example, if your brand is relevant in local search, travel, shopping or health, these two platforms may be beneficial to test. They both offer lower bids and a better chance of a top result as a result of lower competition, and search users on Bing and Yahoo spend on average 21.5 percent more than the average searcher. There are several other benefits to using this platform as well, albeit with a smart approach. In fact, Bing ads are a growing business for Microsoft, with 55 percent of PPC advertisers using Bing as an outlet.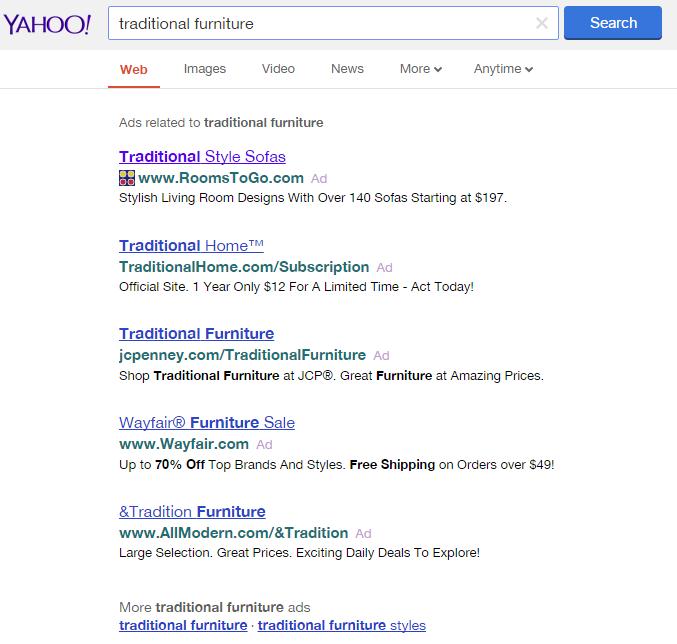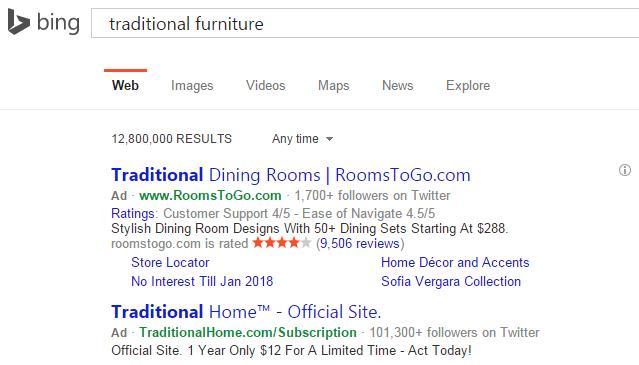 From Search Engine Land in 2014: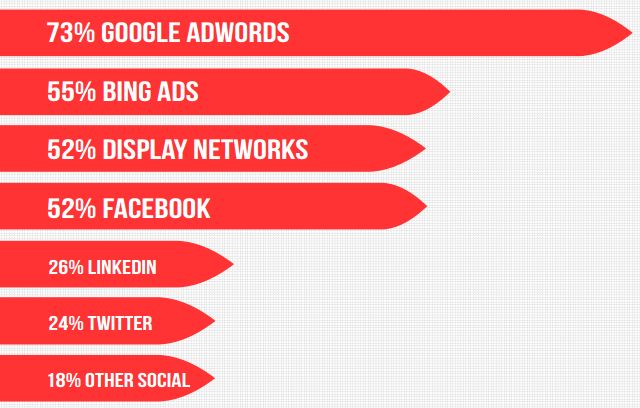 There is also a growing exclusive market for Bing and Yahoo. Not everyone uses Google (a shock, I know), and those who use Bing and Yahoo do so almost exclusively. Check out this infographic from Search Engine Watch: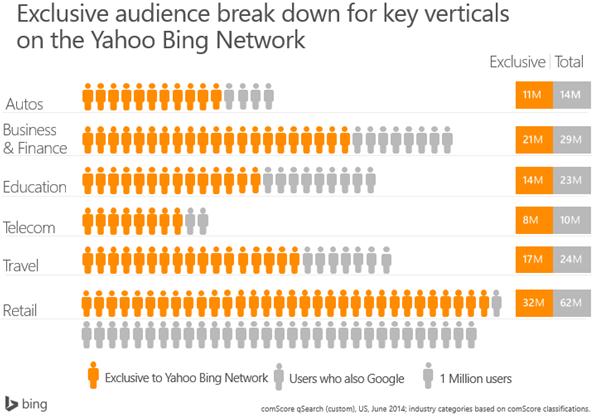 YouTube Pre-Roll and Promoted Videos
If you have a commercial or short video that could be multi-functional, there's no better place to put it than on YouTube. As a pre-roll video, users can search for a topic or subject and when they click play on the video they want to see, they will sometimes be required to watch a short commercial before their video will start. In most cases, the user can opt to skip the commercial after five seconds, so those first few moments have to pack a punch. The cost-per-click is insanely affordable and the audience is much more controlled and refined than a typical television commercial. The cost per view usually equates to only a few pennies when comparing to click-throughs, making this a very effective platform for advertising. When typing in a search term, advertisements will show at the top of search results, like this one: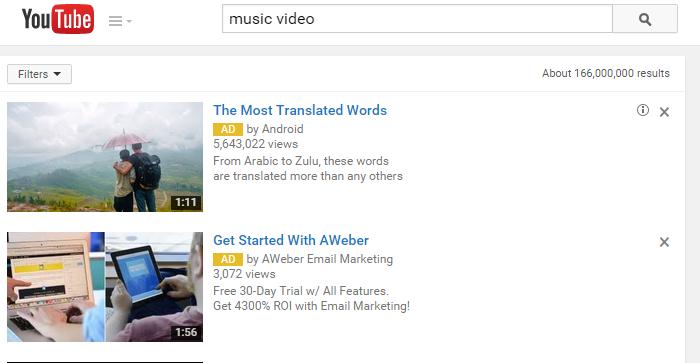 When you click on a video that has a high view count, you will most likely be required to watch an advertisement like this one: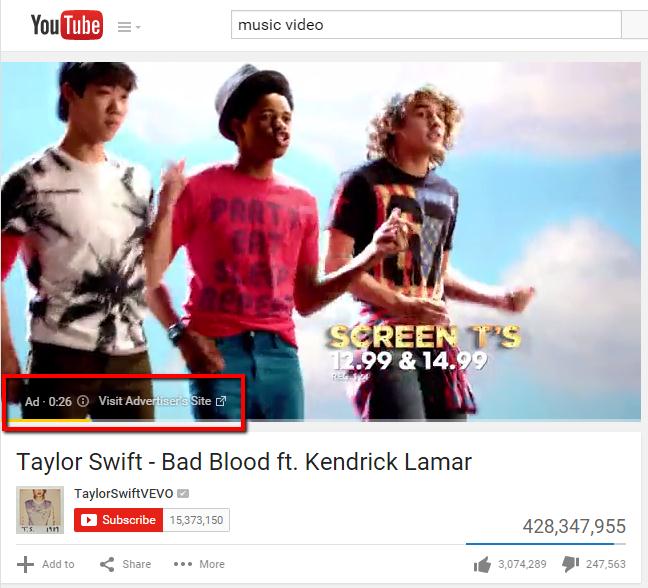 Pinterest Promoted Pins
Anyone who spends time on Pinterest can attest that is has become a highly effective shopping platform. What was once a place to pin our hopes and dreams, it has now become a place to purchase them, too. Their promoted pins feature is great for those selling products online. Want to feature a new offering? Create a great graphic, pin it and then have it show to your targeted demographic. Just like other PPC ads, you can select where the click-through takes the user, such as the product page on your website. Promoted pins are being rolled out slowly, so there's a waitlist at the moment that lasts a few months. Still, it's a great way to offer another avenue for sales.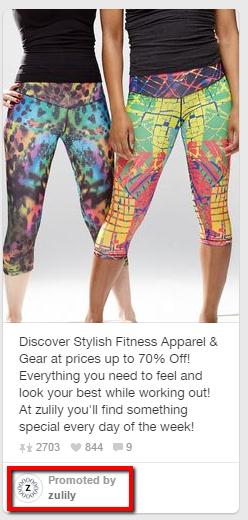 Facebook Boosted Posts
Boosted posts on Facebook are status updates that are promoted on news feeds based on pre-determined parameters, such as interests, location, marital status, etc. They will therefore show as a sponsored post or suggested post, depending on who you choose to see the ad (existing fans vs. potentially new fans). These can be especially useful for updates like announcements and flash sales, but they need to be beneficial to the audience in some way (in other words, don't get too pushy or overly promotional with your status updates in general). Facebook has recently decreased organic reach for business pages, so it's now almost mandatory to pay-for-play on this platform if you want to be seen with your target audience. They also have an advertising rule; no more than 20 percent of images that are boosted or that serve as ads (see below) should include text. Plan ahead of time if you plan to boost a post so that your image meets their guidelines.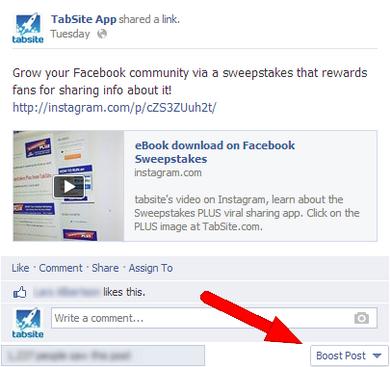 Facebook Ads
Facebook's Ad Manager tool allows you to create ads from scratch to drive traffic to your business page. In addition, you can alternately drive traffic straight to your website from Facebook. As with Boosted Posts, you have various bidding and budgeting options to choose from, and this feature operates much like Google Adwords. This type of PPC is great for featuring products on your website, building your fan base on your page and advertising services. Ads will show in-feed or on the right hand side of the news feed. The text rule in graphics of 20 percent still applies here.
Here's a right hand side example: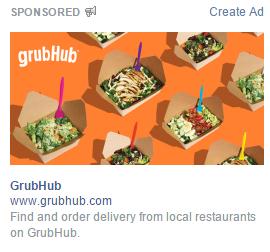 Here's an in-feed example: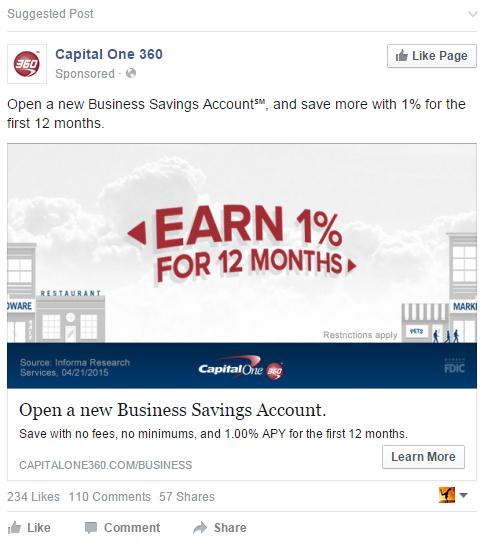 Local PPC
Local news affiliates and regional websites may seem like a little fish in a big pond, but if your business relies heavily on foot traffic or local support, there's no better place to advertise online. However, do your research on local news affiliates when it comes to their display ad packaging; some are better than others. For example, packages that charge by impression and not by click-throughs aren't as concerned with your conversion rate, but simply by how many times your ad is shown. Also look for mobile ad opportunities with them, and seek out the most trafficked pages for your impressions. Lastly, look for ad space 'above the fold', or at the top of the page before you start scrolling down. These ads can come in many forms.  It can be a sponsored story advertorial, a banner ad, a mobile or app banner, or a pop up.
Here's a standard box ad: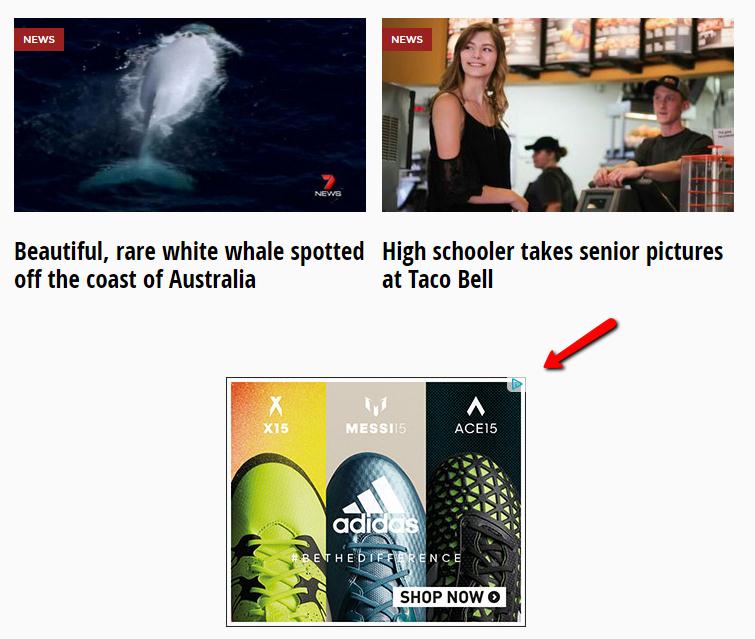 A sponsored advertorial will be right in the news feed, like this: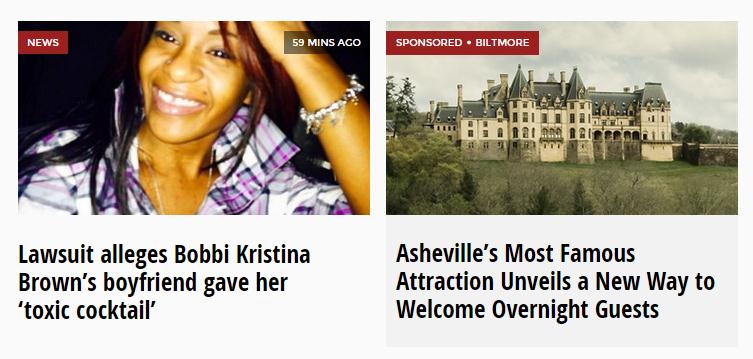 It's important to note that each of these PPC platforms can get convoluted and downright confusing if you're not a PPC professional. Don't make beginner mistakes and risk your marketing budget. We suggest leaving this up to the professionals to navigate the terrain! There are other PPC platforms out there; this is by no means the full list, but this will give you an idea of the various outlets available to you!
advertising
,
bing
,
digital advertising
,
facebook
,
google
,
pay-per-click
,
ppc
,
yahoo